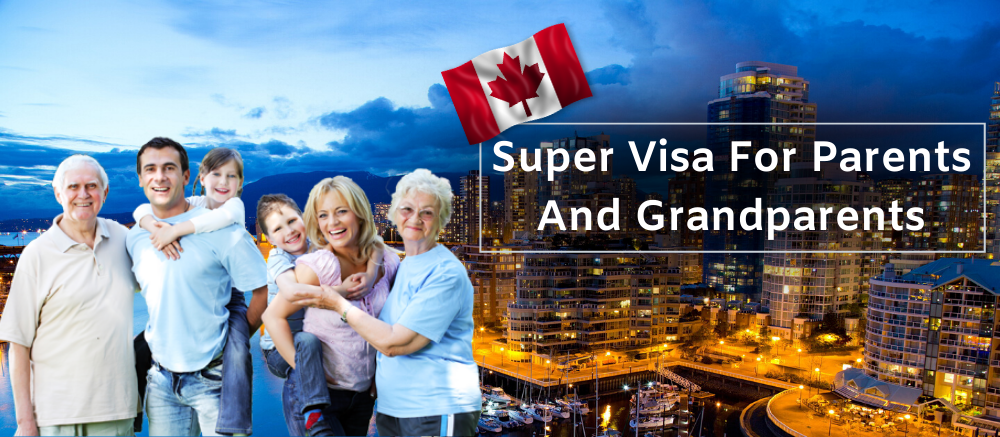 SUPER VISA FOR PARENTS AND GRAND PARENTS
Majority of Foreign Nationals visiting Canada on a TRV (Temporary Resident Visa) or ETA (Electronic Travel Authorization) are granted entry to Canada for a maximum period of 6 months. This includes people visiting their families and having a limited stay of maximum 6 months. Considering this and the importance of Family Bonding and Resettlement, The Government of Canada started this new program 'Super Visa' to let Families stay together for a longer period of time other than usual 6 months
A 'Super Visa' allows Parents or Grandparents of a Canadian Citizen or Permanent Resident to visit their family in Canada and stay for up to 2 years without having to renew their status every six months. It is a multiple entry visa and usually issued for 10 years. The super visa is applicable for eligible parents and grandparents of the PR/Citizens living in Canada. Dependents of parents and grandparents are not eligible for the Super Visa.
To be eligible for a super visa, you must:
Be the Parent or Grandparent of a Canadian citizen or a Permanent Resident of Canada
Have a signed letter (Letter of Invitation) from your child or grandchild who invites you to Canada that includes:
APromise of Financial support for the length of your visit
The list and number of people in the household of the person including you
A copy of the person's Canadian citizenship or permanent resident document
You must have successfully passed a Medical Examination
You must not be Inadmissible to Canada based on Medical, Criminality or other Inadmissibility
You must have a private medical insurance from a Canadian insurance company valid for at least 1 year from the date you enter Canada. The medical insurance must cover at least $100,000 towards your health care, hospitalization, and repatriation.
Must apply for a Super Visa from Outside Canada
Must comply with conditions on Super Visa and not engage in Study/Work in Canada without proper authorization
You must be a genuine visitor to Canada who will leave by choice at the end of your visit.
Financial support (Proof of funds)
The child or grandchild who invites you must prove that their household meets the minimum necessary income. The following documents can be used as proof of funds:
Notice of Assessment (NOA) or T4/T1 for the most recent tax year
Employment Insurance stubs
Employment letter including salary and date of hiring
Pay stubs
Bank statements
| Size of Family | Minimum Necessary Income |
| --- | --- |
| 1 Person (The Sponsor) | $25,921 |
| 2 Person | $32,270 |
| 3 Person | $39,672 |
| 4 Person | $48,167 |
| 5 Person | $54,630 |
| 6 Person | $61,613 |
| 7 Person | $68,598 |
| More than 7 Persons, for each additional person add: | $6,985 |
Have more questions or doubts, Contact our office to discuss and effectively plan for your Parents Super Visa.
To find out if you are eligible for this, please fill out a free online assessment form today.
Get in touch for Parents and Grand Parents Super Visa ?
Please try to include as many details you can.